🔥🔥 HOT NEW RELEASE 🔥🔥
Dissonance by Julia Wolf is LIVE!! Don't miss this rock star romance! #OneClick today!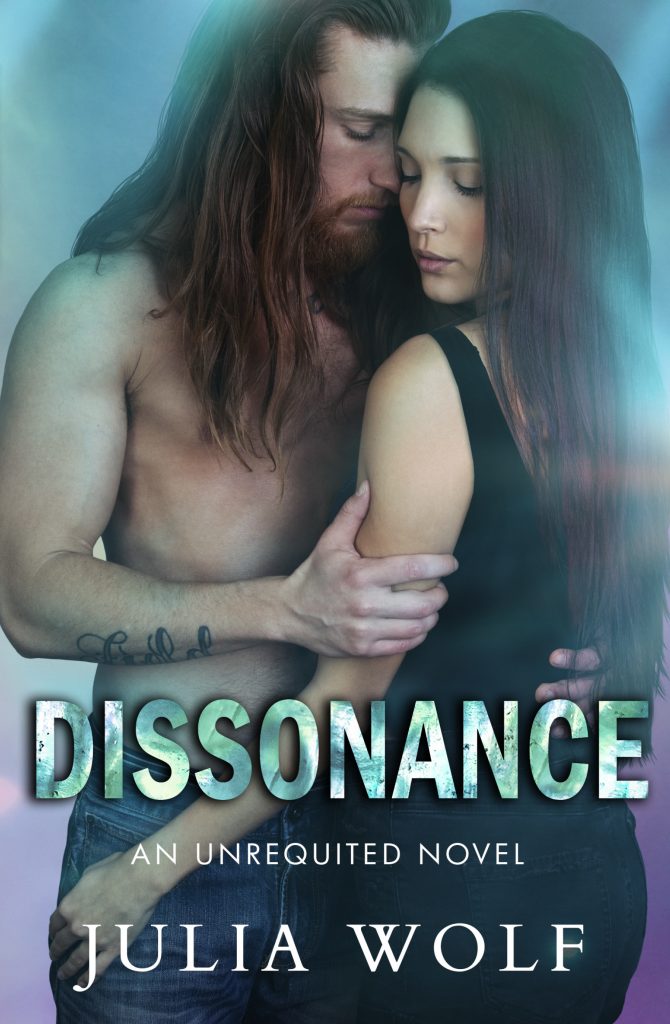 BLURB
Everyone loves Alex Murray.
I'm not everyone.
My history with Alex goes way back. Back to before the fame and groupies and wild tours. Before he was the lead guitarist for Unrequited. We've known each other for a decade and have been at odds for a good portion of it.
When I need Alex's help, he jumps in with both feet, volunteering to be my fake boyfriend at an old friend's out-of-town wedding.
Where my ex-boyfriend will be. The man I thought I'd marry one day.
I'm going to the wedding for closure, but what I didn't count on is how my eyes are opened to who Alex Murray really is. Or that the act we're putting on isn't an act at all.
Add to your Goodreads TBR: http://bit.ly/Dissonance-GR
Yet again Julia Wolf delivers an emotional masterpiece with Dissonance. Julia has this way of capturing emotions so beautifully in a way that is distinctly unique to her and that shines in this book. Dissonance is an enemies-to-lovers story with more depth, emotion, and beautifully real characters that I've ever read. Perfectly balanced with brilliant sarcastic humor and heat, this book is on a whole different level than nearly every other enemies-to-lovers out there.
Yael may seem like a tougher than tough bad@#$, but there's a side to her that we've never gotten to really see until now. Hiding beneath that strong exterior is a softness that's reserved for only those she loves. That side of her seems to be hidden from nearly everyone except Alex. Then there's Alex who much like Yael, but in the complete opposite direction, appears to be nothing more than a big goofball. Underneath that fun filled mask though is a man who loves so deeply, and cares so much he'd sacrifice anything for those he loves.
These two are like tossing a match to gasoline when they're together. It's never just sparks, it's always a full blown explosion. It makes for great entertainment and angst with their walls up, but when those walls come down your world will never be the same.
PURCHASE LINKS
Universal Amazon Link: https://books2read.com/u/boDvBA
START THE SERIES TODAY
Misconception:
Universal Amazon link: http://mybook.to/JWMisconception
Unrequited:
Universal Amazon link: mybook.to/JWUnrequited
TEASERS
ABOUT THE AUTHOR
Julia Wolf is a lover of all things romance. From steamy, to sweet, to funny, to so dirty you'll be blushing for days, she loves it all.
Formerly a hair stylist, she spent years collecting stories her clients couldn't wait to spill. And now that she's writing full time, she's putting those stories to use, although all identifying characteristics have been changed to protect the not-so-innocent!
Julia lives in Maryland with her three crazy, beautiful kids and her patient husband who she's slowly converting to a romance reader, one book at a time.
AUTHOR LINKS
Facebook: https://www.facebook.com/AuthorJuliaWolf/
BookBub: https://www.bookbub.com/profile/julia-wolf
Instagram: https://www.instagram.com/authorjuliawolf/
Twitter: https://twitter.com/JuliaIsWriting
Reader group: https://www.facebook.com/groups/JuliaWolfReaders/